---
Hospital Pakar Sultanah Fatimah is a government hospital located in Muar, Johor….
Hospital Pakar Sultanah Fatimah provides medical services to all communities in the state and surrounding areas to ensure the health of the community is enhanced and the delivery of information is channeled more effectively.
This is in line with its objective of this hospital as an excellent health care center.
---
ADDRESS
Hospital Pakar Sultanah Fatimah, Jalan Salleh, 84000 Muar, Johor Darul Takzim, Malaysia.
PHONE
+6 06-952 1901
FAX
06-952 6003
E-MAIL
WEBSITE
LOCATION
DESCRIPTION
Hospital Pakar Sultanah Fatimah set up for help an individual achieve and maintain a health standard to enable him to carry out productive economic and social life
This can be achieved by providing efficient, effective and effective treatment, rehabilitation, treatment and rehabilitation services with emphasis on underprivileged groups.
Background
Hospital Pakar Sultanah Fatimah was established around 1900 in Jalan Petri, Muar and known as the 'Government Dispensary'. Overall health service was moved to Jalan Salleh (present) in 1918, when the town of Muar was being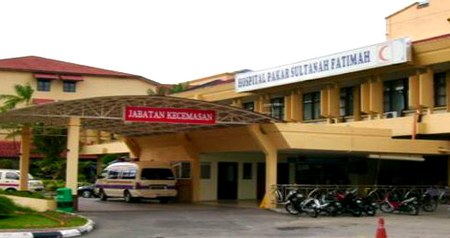 restructured.
Beginning in the 1920s, this hospital which was once known as the Muar District Hospital has gone through a variety of development until today. Conversion and the declaration of the name of Hospital Muar to Hospital Pakar Sultanah Fatimah was completed by the Duli Yang Maha Mulia Sultanah Johor on October 13, 2003.
This hospital is the third most important hospital in Johor after Hospital Sultanah Aminah dan Hospital Sultan Ismail. It is also a reference to the northern zone of the State of Johor which consists of Batu Pahat, Segamat and Tangkak districts. In addition Sultanah Fatimah Specialist Hospital also plays a role as a 'Teaching Hospital'.
Hospital Redevelopment Project Master Plan began in 1990 and is still waiting for Ambulatory Care Centre Block which will equip the hospital with a variety of advanced medical equipments and facilities to cater for specialist services.
CHARTER
CUSTOMER CORE CLIENT CHARTER
We promise to provide a professional, safe, friendly, caring and quality services
Our priority will be given to semi-critical and critical cases in Emergency and Trauma Department with waiting time as follows:
All critical cases (Red Zone) treated immediately
All cases of partial kriritikal (Yellow Zone) treated within 30 minutes.
Other cases (Green Zone) will be seen as the priority condition.
Services at the Specialist Clinics and After Office Hours clinic will be by appointment time  and/or condition of the patient.
Information will be provided to customers about the disease and treatment
Confidentiality of personal information, disease and treatment given to patients is assured.
Facilities and a clean, comfortable and safe is provided.
OBJECTIVE , VISION & MISSION
OBJECTIVE 
Objective Quality


To provide efficient, high quality and effective

 of 

rehabilitation services

 to 

outpatients and

 in –

patients in need of treatment

 

to

 

save lives and

 

relieve

pain

 

in order to achieve

 

early

 

and maximum

 

recovery

.

Quality Policy

We are committed to

 

providing services

 

in a professional

, efficient 

and effective manner

 

to meet

 

customer requirements

, standards, 

professionalism and

 

quality management

 

system standards

 

to achieve

 

excellence

 

at all times
VISION
To creating an institution that will become a leader in health services and in guiding human excellence
MISSION
To provide the best health care services to the community with an emphasis on customer-oriented services.
*  Ensuring that customers rights are protected and respect their human dignity.
*  Adopt a work culture that emphasizes effective communication, a friendly professional service and teamwork.
*  Emphasize cost effectiveness without compromising customer care to ensure the optimal use of resources and adopting innovative approaches in the treatment process.
*  Ensure the welfare of members and creating an environment that is safe and comfortable.
*  Provide training and skills in career and human development to create Hospital Pakar Sultanah Fatimah, Muar as learning organizations.
SERVICES
Hospital Pakar Sultanah Fatimah Departments
Medicine Department
Anesthesiology Department
Ophthalmology Department
Dermatology Department
Emergency And Trauma Department
Surgery Department
Paediatric Department
Orthopaedic Department
Psychiatry Department
Otorhinolaryngology Department
Oral Surgery And Orthodontic Department
Obstetrics And Gynaecology Department
Hospital Pakar Sultanah Fatimah Facilities
Car parking area
Notice boards
Public phone
Waiting area
Rest benches
ATM machines
Lift
Wheelchairs
Therapeutic park
Drinks dispensing machine
Suggestion box
Cafeteria
Hospimart – mini market
Visitor center
Surau
Health shop
Police station
Playground